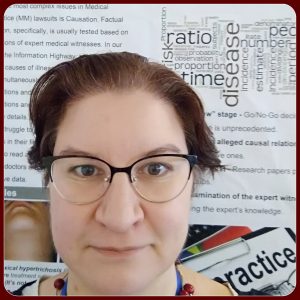 Epidemiologist, Public Health & Medical Informationist
Current Work / Services
Health & Medical Informationist for doctors, patients and lawyers*

Epidemiologic research / consultant

"Medical Detective" for rare or "mysterious" medical conditions

Medical writer

Health Literacy – Researcher and lecturer.
Education
MSc in Epidemiology and Preventive Medicine, Faculty of Medicine, Tel Aviv University (2004).
BA in Psychology and Linguistics, Tel Aviv University (1996).
Academic Reviewing
Research proposal reviewer for the Israel National Institute for Health Policy Research.
Selected Publications
Mehoudar O. Health literacy and e-health literacy: Access to health information as key to equal social opportunities. Health Promotion in Israel 2014; 5: 25-34 [Hebrew]. View file: Health Promotion
Mehoudar O, Schachter L, The legal status of dietary supplements and herbal remedies. Journal of the Israeli Medicine and Law Association (ISMAL) 2005; 33: 125-129 [Hebrew]. View file: ISMAL
Kahan E, Rabin S, Tzur-Zilberman H, Rabin B, Shofty I, Mehoudar O, Kitai E. Knowledge and attitudes of primary care physicians regarding battered women. Comparison between specialists in family medicine and GPs. Family Practice 2000; 17: 5-9. View file: Family Practice-2000
Rabin S, Kahan E, Zalewsky S, Rabin B, Herz M, Mehudar O, Kitai E . Primary care physicians' attitudes to battered women and feelings of self-competence regarding their care. Israel Medical Association Journal (IMAJ) 2000; 2: 753-757. View file: IMAJ
Kahan E, Lemesh C, Pines A, Mehoudar O, Peretz C, Ribski M. Workers' Right-to-Know legislation: Does it work? Occupational Medicine (London) 1999; 49: 11-15. View file: Occupational Medicine
Areas of Interest and Expertise
Medical Information; eHealth; Health Literacy; Medical Education; Ethical, legal and social aspects of medicine;
Integrative & Complementary Medicine; Regulation of dietary supplements.
New ideas? Challenge me!
Contact
Location: Tel Aviv, Israel
Tel: 972-3-6412281 (GMT+2)
Cell: 972-52-2646661
e-mail: Ofra@medi-kal.com
* Note: None of my Services intends to replace consultation with a doctor.